Product features
How are our spindle liners designed?
Our liners are manufactured on the basis of precision steel tubes and are available for all common material sizes of different profiles. Precision steel tubes have proven to be the best choice for liners in the long run because of their guidance, accuracy and reliability. The liners are centered in the clamping cylinder and draw tube of the spindle via aluminum support rings (with O-ring). The O-rings bridge manufacturing tolerances in the draw tube, prevent the coolant outflow and provide additional damping. The liners are flanged to the clamping cylinder with a clamping ring.
Is it possible to request special constructions, e.g. size extensions?
Yes, our liners are available in standard sizes (as with the machine manufacturer) as well as flexibly adaptable to your requirements. In addition to an extension in direction of the chuck or collet chuck or in direction of the bar feeder, we also advise you on the possible applications and physical limits.

Are there spindle liners for multi-spindle machines, counter spindles and bar feeders?
Yes. In addition to the classic use in the main spindle of a lathe, there are other applications for spindle liners. To meet these needs, we also design and manufacture liners for multi-spindle lathes, counter spindles and bar feeders.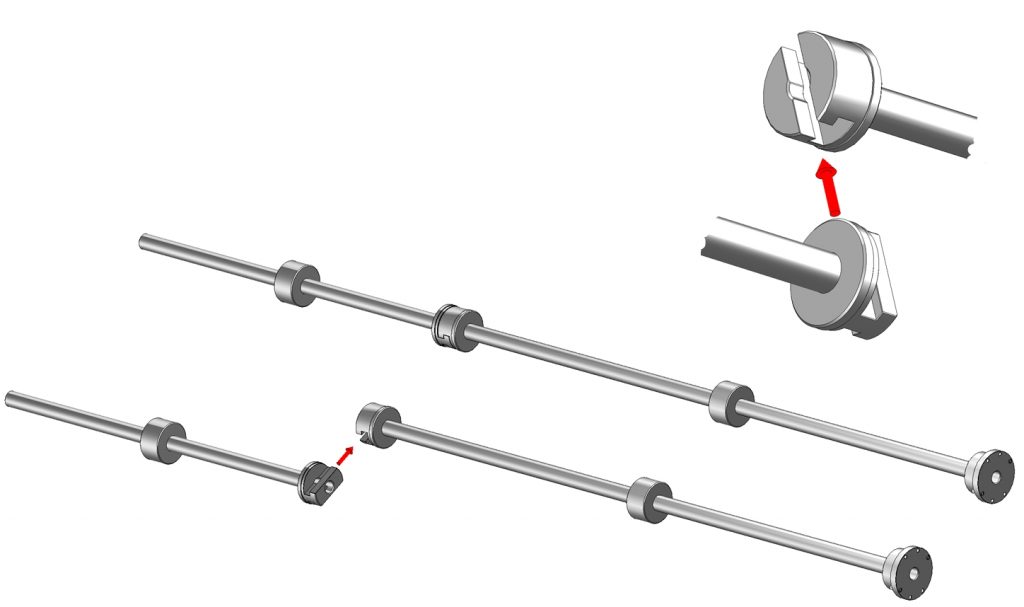 What are Master liners?
Master liners are carrier tubes for bushings. In this way you only need one liner per machine, in which different bushings can then be used for different material sizes. This equipment option can be useful if you want to process many different material sizes and do not want to buy a separate liner for each case.

Is it possible to guide other profiles than round bars?
Yes. By using master liners with replaceable reducing bushings, this problem can also be solved. Reducing bushings can be cut to any profile (for example square) and are going to be inserted into the master tube with the help of "anti-rotation locks".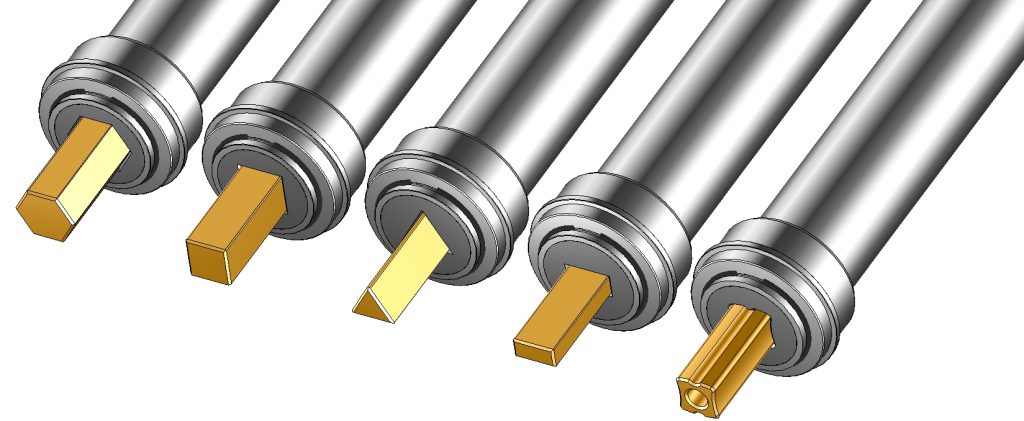 What is the difference between integrated and separate clamping?
Spindle liners must be attached (flanged) to the clamping cylinder of the lathe. This can be done in two ways.

Via integrated clamping flange: Each liner has its own flange attached. This system is offered by most machine manufacturers.
Via separate clamping ring: An independent mounting ring fits for all liners on your machine. This facilitates assembly and storage and gives you another price advantage.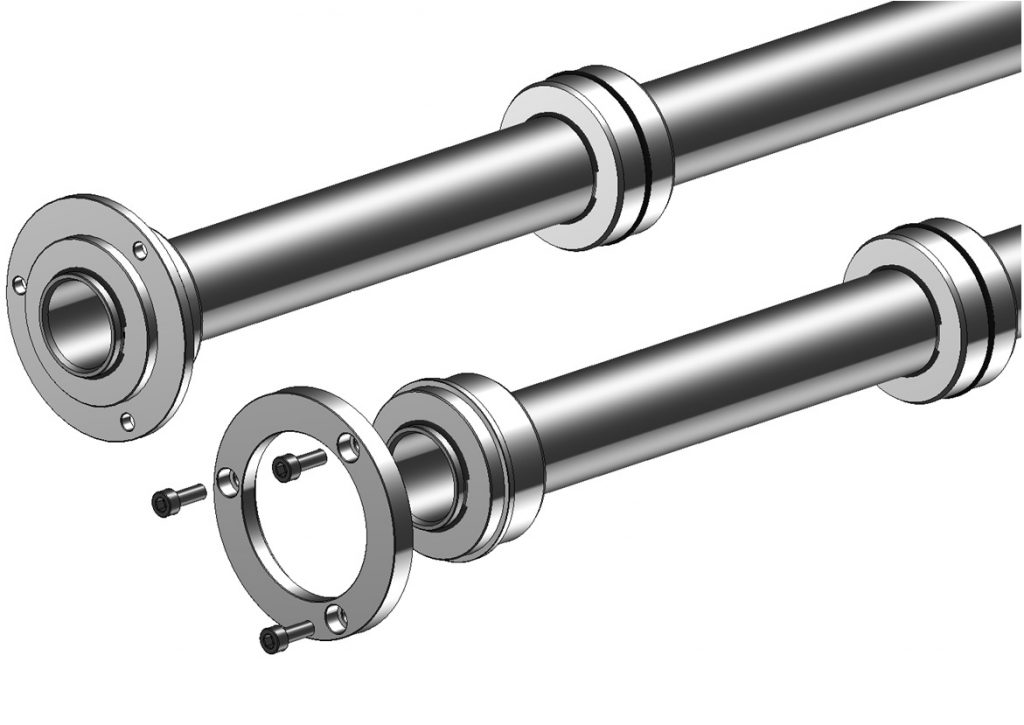 What about surface finishing?
Yes. Our liners are available in burnished or galvanized version.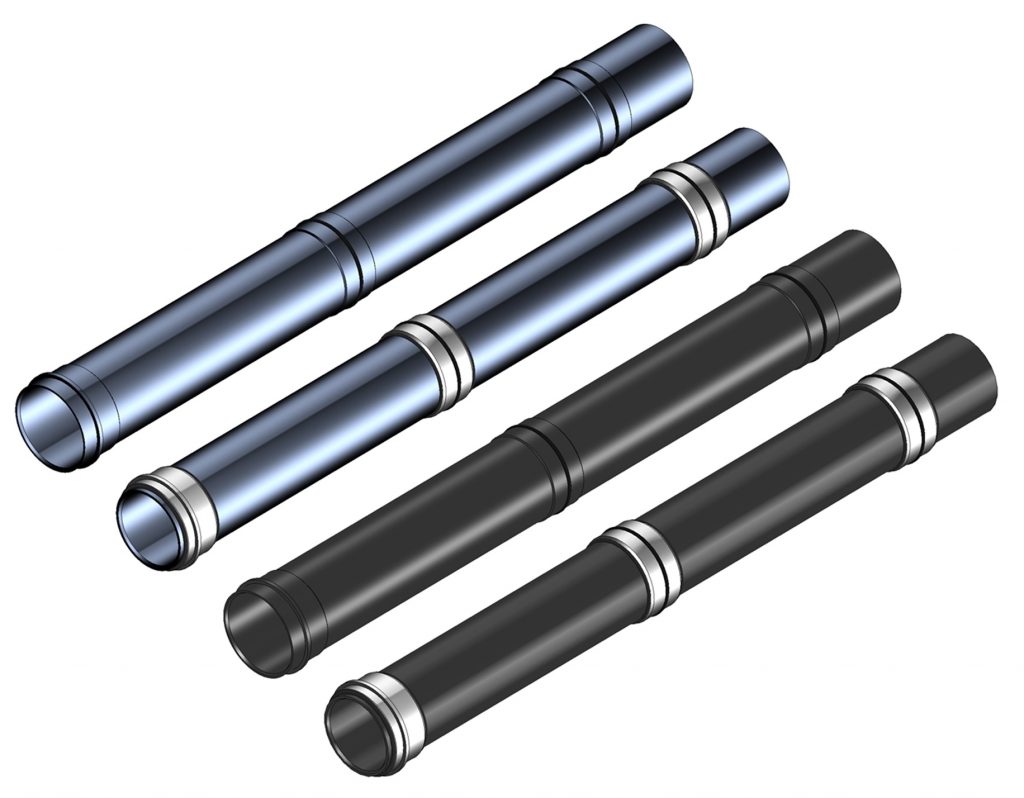 What about balancing?
Optionally, our liners can be straightened and balanced with a target imbalance of less than 7g. Due to the physical conditions in practice, however, this is recommended only for a few cases in application. It should be noted that the effects of balancing are lost as soon as bar material, which is not perfectly straightened and balanced as well, is inserted into the liner. Washing machines have a similar principle: Due to the rotating masses within the drum, the optimization effect of balancing is going to be lost.
Order, delivery and warranty
What do we have in stock?
With our modular system we have basically all liners for all common material sizes in stock.
Which manufacturers are supported?
Our products and our services are manufacturer-independent.
Which material diameters are supported?
In case of ​​round bars all sizes from 1mm. For some material diameters, we also offer intermediate inner diameters (e.g.16.5 mm) to better center the material to be processed. With reducing bushings, all other material profiles (e.g. square) can be centered optimally.
How to request a liner via the request configurator?
You can use the configurator on our website to request the spindle liners you need easily. After entering your machine, your clamping cylinder and the material sizes to be processed, you can submit the request without obligation. We will then send you an offer quickly.
For our existing customers, we also provide a simplified process for reordering within the configurator.
What about delivery times?
Our standard liners have a delivery time of usually 2-3 days outgoing and are ready to use when recieved. On request, an express delivery is possible as well.
What about warranty?
We guarantee 10 years warranty on our products.

What else is in the assortment?
In addition to liners for main and counter spindles as well as for multi-spindle machines, we also offer useful accessories. In addition to tailor-made storage systems for the liners, coolant collectors are also available.
Furthermore, we manufacture and modify draw tubes and, based on many years of experience, offer everything related to machine part production according to drawings.
Use
Why to use spindle liners?
Non-guided bars and bar ends in the spindle bore of your CNC lathe produce imbalances and vibrations leading to material surface deterioration, dimensional inaccuracies and adverse workpiece clamping. This also impacts negatively on the spindle bearing assembly. To rule out any imbalances or vibrations, the machine spindle bore needs to be adjusted to the material diameter used.
Which liner for which material diameter?
The general rule is material diameter + 1mm. For bar material of 35mm diameter, for example, we recommend a 36mm liner. For a particularly optimized centration, we can also deliver intermediate diameters.

How to mount the liners?
The liners have to be inserted through the clamping cylinder. Its important that the spindle is free of contamination, especially chips.
While inserting the liner, you don't must pay attention to a special axial position. The separate clamping ring makes it easy to flange the liner to the cylinder.
For disassembly you only have to release the clamping ring and slide the liner out of the spindle.

How to store liners correctly?
For an optimum storage of spindle liners we also offer appropriate storage systems. Thus, the liners are hung up space-saving and are quickly visible and tangible.